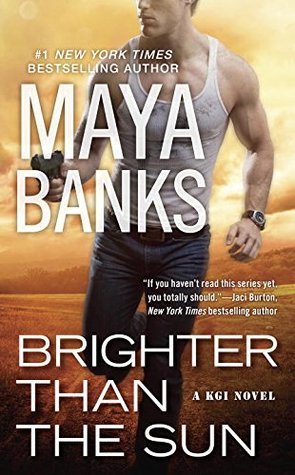 Brighter Than the Sun
Author: Maya Banks
Category: Romance
Published: 2017
Series: KGI #11
View: 8989
Read Online
Searing action and passion ignite the latest KGI novel from the #1 New York Times bestselling author of Darkest Before Dawn.
The Kelly Group International (KGI): A super-elite, top secret, family-run business.
Qualifications: High intelligence, rock-hard body, military background.
Mission: Hostage/kidnap victim recovery. Intelligence gathering.
Handling jobs the U.S. government can't...
As the last unattached member of the Kelly clan, Joe is more than ready to risk life and limb on any mission he's assigned to, but when it comes to love, he'll keep his distance. He's content to watch his brothers become thoroughly domesticated.
Zoe's had nothing but heartbreak in her life, and she's determined to start over with a completely new identity, thanks to her college friend, Rusty Kelly. But it's the gorgeous smile and tender words of Joe Kelly that begin to weaken her resolve to never risk her heart again. And Joe will have to put everything on the line to save Zoe, when secrets of her past resurface—and threaten to tear them apart…
List Chapter or Page: